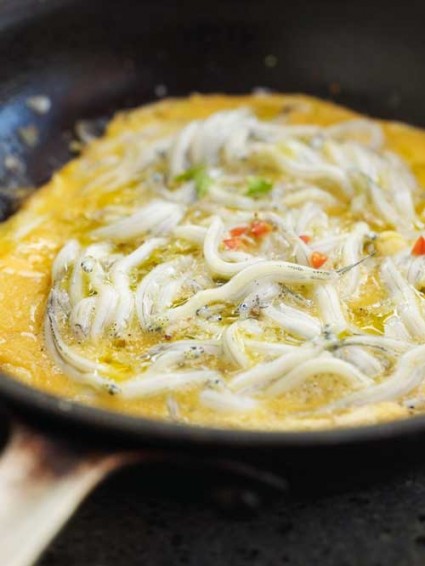 Photo credit: Aaron McLean
Inanga (Whitebait) Omelette
When I was a kid, the whanau and I used to go whitebaiting down the Whakatane and Rangitaiki rivers. We\'d get an ample supply of this delicate fish, take it home and cook it up immediately.
Serves 1
1 egg
extra virgin olive oil, enough to coat pan (plus a little more if needed, to moisten)
2 tablespoons fresh inanga (whitebait)
salt and pepper
lemon and lime zest, to garnish
1/4 mild chilli, diced
flat-leaf parsley or any fresh herb
drizzle of extra virgin olive oil
juice of 1/2 lemon or lime
Place the egg in a bowl and whisk.
Preheat a grill or salamander until hot.
Heat an ovenproof pan until hot, drizzle oil into it and pour in the whisked egg. Gently spread the whitebait over the top.
Once the egg starts to bubble at the edges, place the pan under the hot grill or salamander - cook until opaque, no longer. Add a little oil on the top to keep it moist if neccessary.
Plate up, season with salt and pepper and garnish with lemon and lime zest, chilli and flat-leaf parsley for colour.
Add a little drizzle of your favourite olive oil for richness and flavour and finish off with a good squeeze of lemon or lime juice.
Browse more recipes...