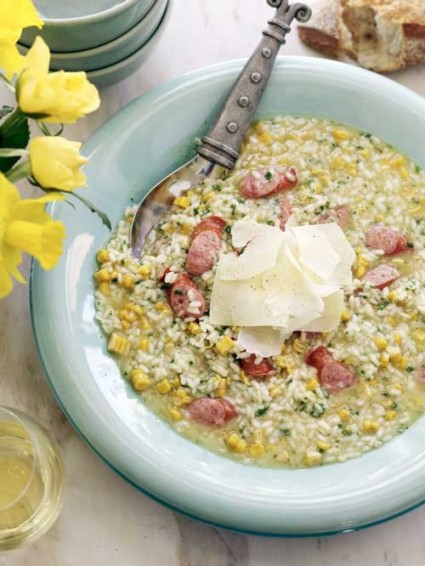 Photo credit: Aaron McLean
Hotiti (Sausage) Risotto
This hotiti (sausage) and rice dish has a gorgeous creamy look. Kranskies are spicy, European-style smoked sausages made from pork or beef. Many risottos require constant stirring; this one you just leave to absorb the liquid.
Serves 4
1/4 cup olive oil
1 onion, finely chopped
3 cloves garlic, diced
1/2 cup arborio rice
1/2 glass dry white wine
6 kransky sausages, cut into chunks
3 cups chicken stock
2 cobs sweetcorn
1 handful pikopiko, broccolini or asparagus spears, cut into thirds
200g goat's feta, cut into chunks, or shaved Parmigiano-Reggiano
1/2 cup finely diced parsley, to garnish
1/4 cup extra virgin olive oil, to garnish
Coat base of heavy-based saucepan with olive oil; heat; then add onion and garlic and saute 1-2 mins or until translucent.
Add the rice and coat well with the mixture. Add white wine and stir. Once liquid is absorbed, add kransky sausages and 1 cup of the chicken stock. Allow this to be absorbed before adding another cup and repeat absorption before adding the last cup of stock. Let it absorb. The rice should be al dente at this point.
Slice the kernels off the corn cobs and fold these in, along with the greens. Add the feta or Parmigiano-Reggiano. Sprinkle parsley over the top and add your favourite extra virgin olive oil, which will give a rich glaze to finish the dish.
Browse more recipes...