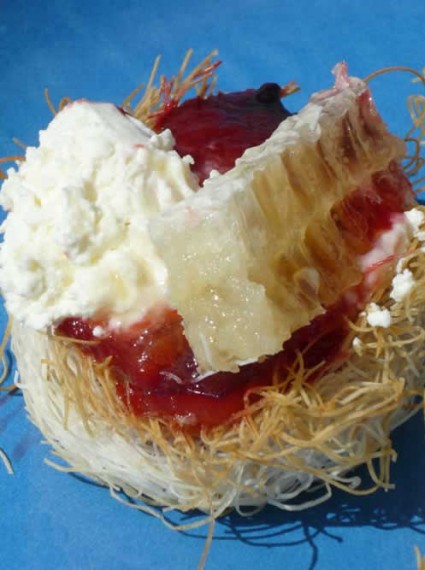 Pakiri Birds Nests
My production manager Michele Driscoll (Tasi) came up with this light, rustic concoction using a shredded filo called kataifi. On the plate, it looks like a Devonshire tea scone!
Serves 4
2 tablespoons New Zealand manuka honey
1 teaspoon ground ginger
fresh fruit such as plums, nectarines - whatever you prefer or is in season
5 tablespoons amaretto
2 tablespoons rice bran or canola oil
190g kataifi pastry - available from Middle Eastern shops
12 heaps tablespoons ground almonds
4 thin slices comb honey
4 tablespoons Greek yoghurt
Preheat oven to 180 degrees, fan-bake. Bring 1-1.5 cups water to the boil in a pan. Add manuka honey and ginger, turn down to a simmer and reduce liquid to a syrup.
Slice fruit into segments, discarding the stones. Add to the syrup and stew on a low heat for approximately 5 minutes. Add more water if the syrup becomes too thick. Finally, add amaretto and allow to cool.
Grease a muffin patty tin - the larger size is good for this - with some oil. Grab a small handful of kataifi pastry. Spread it out and mould it to the patty tin to look like a bird's nest, making sure you keep some pastry above the tin. Make four of these. Put 3 heaps teaspoons of ground almonds in each bird's nest. Lightly oil the pastry with a pastry brush so it doesn't dry out - this is very important.
Blind-bake for approximately 15 minutes until the pastry is crunchy and golden and the almonds are cooked through.
Spoon cooled fruit into the birds' nests, along with the thick syrup. Top with thin wedges of honeycomb and dollops of Greek yoghurt to look like Devonshire tea scones.
Browse more recipes...