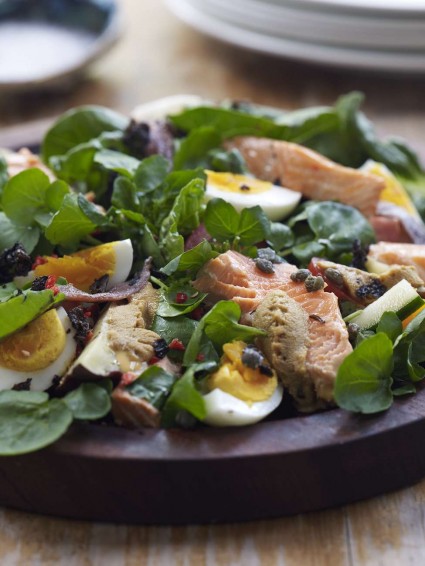 Photo credit: Aaron McLean
Maori Nicoise
Salade nicoise originated in the south of France, around Nice. Once a salad of raw vegetables, eggs, anchovie, tuna, garlic and oil, today it comes in many forms - including the Maori nicoise. I use salmon instead of tuna and add karengo (seaweed) and fresh kina. Usually I use the peruperu or urenika potato for its beautiful purple colour, but if it's not in season the kumara (sweet potato), which I've used here, is a perfect substitute.
Serves 6
9 small kumara, whole (or urenika potatoes in season)
750g salmon fillet
4-6 eggs
1 tablespoon extra virgin olive oil
1 tablespoon karengo (seaweed - available from health food shops)
small handful of sugarsnaps
10 roe from 2 fresh kina
leaves of 2 baby cos lettuces
handful of watercress tips
1 small cucumber, diced
10 small sweet vine tomatoes, halved
1 tablespoon salted capers
4 cloves garlic, diced
7 anchovy fillets
1 mild fresh chilli, diced
good squeeze of lime juice or verjuice
flaky sea salt and freshly ground pepper
extra virgin olive oil, to sprinkle
Preheat oven to 180 - 200 degrees celsius. Chuck kumara whole, with no oil, on an oven tray and roast until cooked.
When kumara are almost cooked, place salmon fillet on the tray with the kumara. Cut salmon into segments but don't cut to the bottom; this way it cooks as a whole. Turn the oven down to 150 degrees and cook until salmon has a milky liquid on top. Do not overcook!
Meanwhile, bring water to the boil in a pot, add eggs and cook for 7 minutes. They will be perfect for the salad.
Grab a small frypan, add a little extra virgin olive oil, heat until hot, then throw in a handful of karengo and crisp up. This is ready in a flash (about 30 seconds) so don't overdo it. Set aside.
Bring water to the boil in a small pot, chuck in sugarsnaps and simmer for 1 minute. Remove from pot and plunge into ice cold water to keep their colour, crispness and nutritional value. Alternatively, steam for 1 minute.
Slice cooked kumara lengthwise. Shell and quarter eggs. Scoop kina roe out of their shells.
On a large platter, throw cos leaves, watercress tips, sugarsnaps, cucumber, tomato halves, kumara and eggs. Cut through the segments of salmon and lay pieces on top. Add capers, garlic, karengo, anchovies, kina and chilli.
Finally, squeeze over a generoud amount of lime juice or verjuice, season, and sprinkle the dish with extra virgin olive oil.
Browse more recipes...