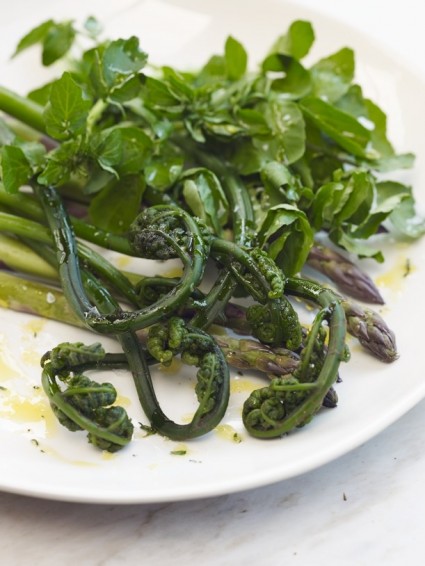 Photo credit: Aaron McLean
Kakariki (Green) Salad
The iconic pikopiko (which Air New Zealand uses for its koru logo) is one of the oldest Maori food staples. The tender young fronds were traditionally cooked in the hangi on top of the kumara. Here I simply added asparagus and watercress to it.
Serves 2
8 asparagus spears
handful of watercress
8 sprigs pikopiko fronds (or substitue extra asparagus or broccolini)
iced water, to cool
juice of 1 lemon or lime
extra virgin olive oil, for drizzling
salt and pepper
Remove the woody ends of the asparagus. Wash watercress. Cut pikopiko fronds to the same length as the asparagus.
Bring a pot of water (just enough to cover the greens) to the boil and place pikopiko and asparagus in it for 2 minutes. Remove and plunge in ice water to cool.
Drain the greens and place on a platter alongside the watercress. Finish off with a squeeze of fresh lemon or lime juice and olive oil, and season.
Browse more recipes...