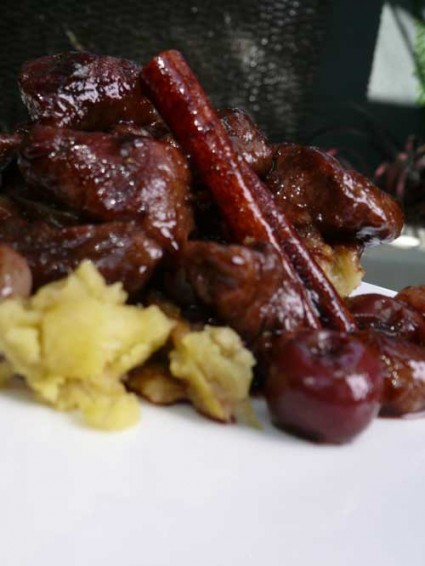 Cherries and Cervena (Venison)
I haven't had a lot to do with venison but this recipe from my girlfriend, Rachelle Duncan, who helped with Kai Ora, is robust in flavour, low in cholesterol and tastes divine.
Serves 4
2-3 kumara
1/4 cup extra virgin olive oil
12 shallots, peeled
1 cinnamon stick
3 cloves
1 cup port
350g (approx) bottled, pitted cherries
1/2 cup cherry juice from the bottle
1/2 cup beef stock
1 loin cervena (permium farmed venison)
1/3 cup flour, for dusting
salt and pepper
1/2 cup rice bran oil
Preheat oven to 180 degrees. Scrub kumara and throw in oven in their jackets for 20 minutes or until soft. Haul out and cool. Meanwhile, heat the olive oil in a deep pan and caramelise the peeled whole shallots over a medium heat. Add cinnamon stick and cloves, then port and pitted cherries, cherry juice and beef stock. Reduce by half.
Dice venison. Mix flour, salt and pepper in a bowl. Coat the venison in this mixture. Heat a pan with a little of the rice bran oil and throw in batches of dusted venison to sear quickly, adding more oil as you go. Set the venison aside. Add stock and cherry mixture into venison pan and simmer gently for 3-4 minutes approximately.
Once kumara are cooked and cooled, squeeze the flesh from the skin (discard skin), crush with a fork and arrange on plates. Spoon venison, cherries, shallots and juices over the kumara.
Browse more recipes...