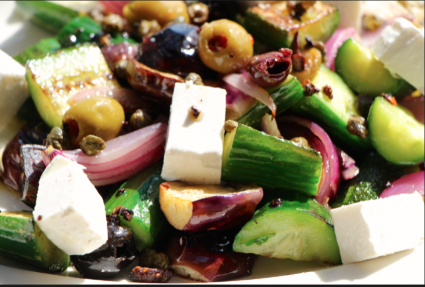 Winter Greek Salad
Fresh seasonal vegetables cooked with the flavours of Mediterranean cuisine that warms the heart in winter.
Perfect with lamb!
Serves 2
6 baby aubergine
4 lebanese cucumbers
12 pitted olives
1/4 block of feta
1 red onion
2 garlic cloves
1 tablespoon capers
a good dollop quality olive oil
Splash a good dollop of olive oil into a frying pan, bring it to a high heat.
Place halved baby aubergine, red onion wedges into frying pan. Cook for two minutes each side.
Add olives capers & chunky cucumber slices until warmed.
Garnish with cubes of feta cheese & serve immediately.. Delicious!
Browse more recipes...