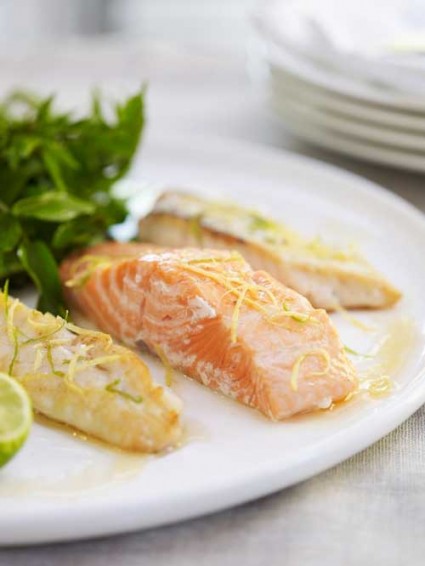 Photo credit: Aaron McLean
Trio of Salmon, Hapuku and Snapper
Our salmon is commercially farmed, the deep-sea hapuku tastes like the wonderful sea bass, and delectable snapper is found everywhere. These fish taste divine.
Serves 3
extra virgin olive oil
200g salmon fillet
200g hapuku fillet
200g snapper fillet
salt and pepper
watercress
zest and juice of 1 lime
lime halves, to garnish
Preheat oven to 180 degrees.
Oil a baking tray and sprinkle a little oil on all 3 fish. Bake for 3-5 minutes.
Plate up, then season with salt and pepper and serve with watercress. Finish off with a squeeze of lime and a drizzle of your favourite extra virgin olive oil. Garnish with half a lime.
Browse more recipes...