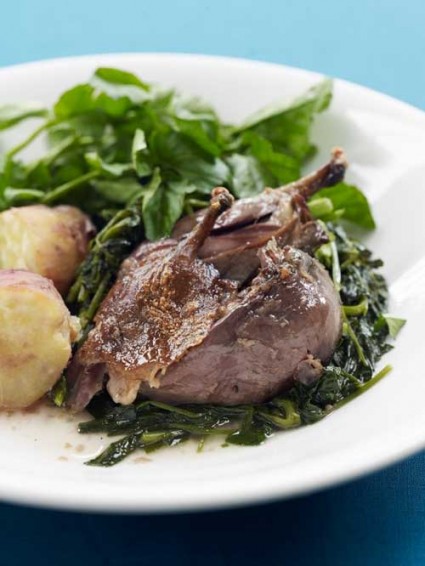 Photo credit: Aaron McLean
Titi (Muttonbird) with Watercress and Kumara
Dale told me about the annual muttonbird harvest on the Titi Islands in Foveaux Strait, and how lucky we are that Maori can still harvest these birds. Ruia said South Islanders traditionally preserve titi in poha (kelp pouches). Allow around 4 hours to prepare this delectable dish.
Serves 3-4
2 titi (muttonbirds - increasingly available at fishmarkets and speciality stores)
2 bay leaves
large potful watercress
6 baby kumara, unpeeled
salt and pepper
Bring a large pot of water to the boil containing titi and bay leaves, then simmer for 2 hours on a gentle 'blip blip' simmer. Leave the windows open when cooking as there is quite a strong smell.
Turn off the heat, haul out titi and discard about three-quarters of the liquid from the pot (it will be quite thick and oily). Replace with the same volume of hot water to make a weaker stock. Bring back to the boil, throw in watercress and whole kumara then turn it down to a slow 'blip blip' simmer until the kuama are soft and cooked. This will take around 15 minutes, depending on the size.
Meanwhile, preheat the grill until hot, place the titi in a roasting dish and grill for approximately 10 minutes until the skin crisps up. More oil should come from the titi: discard.
Arrange a bed of cooked watercress on each plate and place some kumara on the side. Break titi up into segments, removing any fatty deposits and skin, and place on the watercress to serve. Season. Some Maori eat everything except the bones and these too are sucked dry!
Browse more recipes...