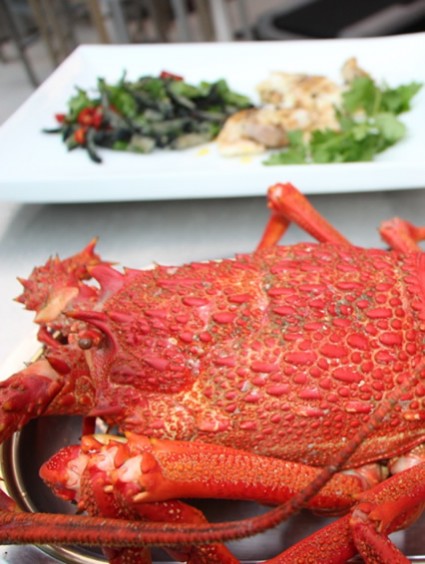 The Chatham Island Booty
Last weekend I was lucky enough to be presented with a chilly bin full of freshly caught kaimoana from the Chatham Islands! Hapuku is a deep sea fish with white flesh and tastes a bit similar to bluenose, while I was also lucky enough to score some paua and a nice big cray. I've paired all this gorgeous seafood with oven roasted carrots and beets.
Serves 4
4 x 200 grams hapuku fillets
2 paua
1 crayfish
2 carrots, julienned
3 medium sized beets, cut into slices
Salt
1 bushel coriander
1 tablespoon crushed ginger
2 cloves garlic, finely chopped
Finely chopped chilli, to taste
Rice bran oil
Extra virgin olive oil
Pre-heat oven to 200 degrees.
Put carrots and beetroot in a roasting pan with a slosh of rice bran oil and a sprinkling of salt. Roast until soft and caramelised.
Plunge the crayfish into a pot of boiling water, simmer for 12 minutes. Remove flesh and put aside.
Cut hapuku into large chunks, quickly pan sear with salt, rice bran oil with a little olive oil added for flavour, then finish them off in the oven at 160 degrees for 5-7 minutes depending on its thickness - don't overcook it!
Remove gut (hua) from paua, cut into slivers. Battering paua with a mallet always guarantees a melt in your mouth experience!
Flash fry the paua in half a cup of olive oil / rice bran oil mix, just for a minute or two with the garlic and ginger, turning the mixture quickly with a spoon, then toss with chopped coriander and chilli.
Arrange all components together on individual plates, season to taste, add a little extra virgin olive oil to finish off and enjoy!
Browse more recipes...