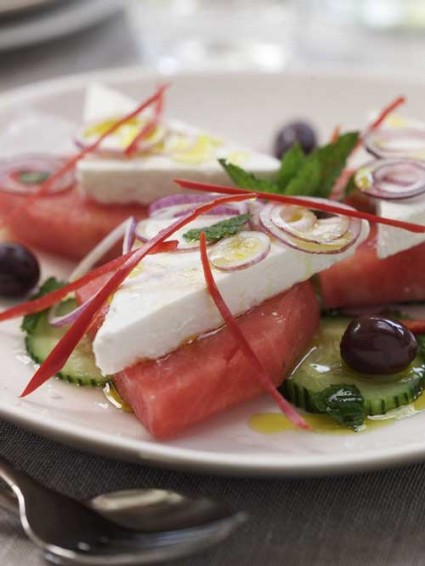 Photo credit: Aaron McLean
Sweet Raumati Salad
A sweet, crunchy salad. The combination of salty goat feta and the sweet watermelon is fantastic. Shards of chilli, kalamata olives and red onion add a very tasty twist to this dish.
Serves 3
3 thick slices watermelon
300g goat's feta, thickly sliced
9 black olives, such as kalamata
3 slices telegraph cucumber, peeled
1 fresh chilli, slivered
1 tablespoon lime juice
sprinkling of extra virgin olive oil
few sprigs mint
Take the rind off the watermelon and cut flesh into triangles. Discard any seeds. Layer on a plate with the goat's feta, a few red onion rings, olives and the cucumber.
Sprinkle with fresh chilli, lime juice, extr virgin olive oil and mint leaves. Simple, sweet and very tasty.
Browse more recipes...