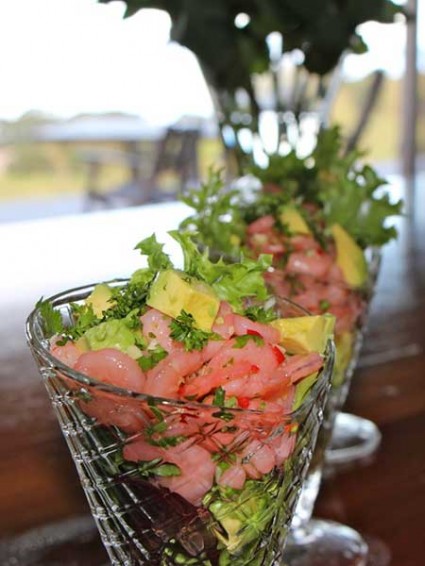 Summer Shrimp Cocktail
My take on the shrimp cocktail incorporates my favourite Asian flavours - lime, ginger, chilli, coriander - to add some extra bite to this summer classic.
Serves 4
About a tablespoon of lemongrass, finely diced
About 2 tablespoons of ginger, finely diced
1 kaffir lime leaf, finely diced (a leaf from any citrus tree will do the trick as well)
Finely diced chilli, to taste
1 tablespoon of chopped coriander
Rind and juice of 1 lime
1 small ripe tomato, de-seeded and diced
2 cups of cooked peeled shrimp
A splash of fish sauce
1 avocado, chopped
Lettuce leaves, to garnish
Mix the lemongrass, ginger, lime leaf, chilli, lime rind, tomato. Add shrimp and fish sauce.
Assemble glassware or bowls with lettuce leaves lining the edges. Layer shrimp mixture with chopped avocado.
Squeeze lime juice over the top, and serve!
Browse more recipes...