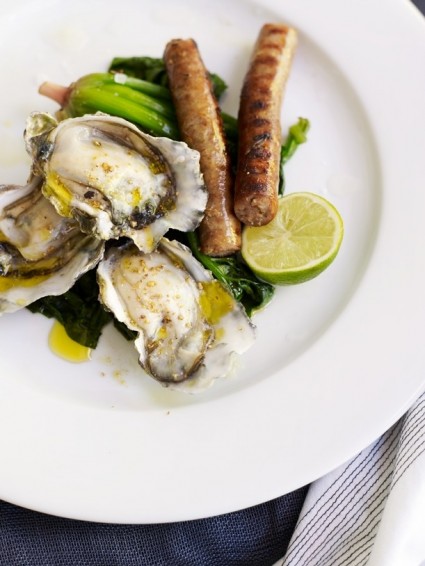 Photo credit: Aaron McLean
Steamed Rock Tio (Oysters) and Grilled Sausage with Wilted Spinach
Check out hte succulent wilted spinach, plumped up steamed tio and the best-made snarlers in Aotearoa in the photo, I just love this dish!
Serves 4
8 sweet fennel sausages, or your favourite sort
2 handfuls of spinach
12 fresh oysters, shucked and left in half shell
flaky sea salt and pepper
1 tablespoon extra virgin olive oil
good squeeze of lime juice
Grill sausages on a preheated, greased hot plate or grill.
When sausages are almost cooked, chuck the spiach into the upper section of a steamer, with the oysters on top. Bring the water in the steamer to the boil, put the lid on and cook for 2-3 mins.
Plate up oysters and sausages on top of spinach, sprinkle with flaky sea salt, pepper and the good oil, then squeeze over some lime juice and garnish with half a lime.
Browse more recipes...