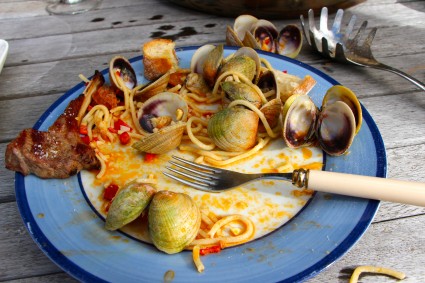 Spaghetti Vongole w Chorizo
Fresh pasta, cockles and hot tasty sausage are hard to beat. Add capers for more flavour if you wish! This definitely is one of my favourite Italian dishes! I've naughtily biffed a lamb cutlet on the side.
Serves 4
400 gms fresh spaghetti
1 thick stick of hot chorizo, sliced
pot full of cockles
1 red med-hot chilli, sliced
knob of ginger, finely diced
4 cloves garlic, diced
Good crusty bread
Favourite EVO oil
Squeeze of lemon juice
Boil pot of water for pasta, salt generously.
Steam cockles in a little white wine until almost open.
Add spaghetti to boiling water. cook for 3-4 minutes. Drain, then add cockles and juices to pasta.
Toss in chilli, ginger and garlic. Remove from heat.
Cook chorizo in a hot pan for a few minutes and add to cockles at the last minute.
Serve w hot crusty bread and plenty of extra virgin olive oil and lemon juice!
Enjoy!
Browse more recipes...