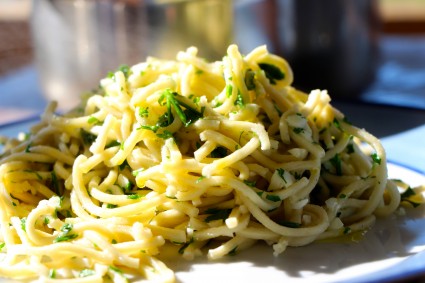 Simple Tasty Delicious Linguine
You can enjoy this fabulous dish on it's own or as a starter! I married it up with oven roasted flounder today. It was a perfect combination.
Enjoy!

Serves 2
220 gms pasta
1/2 gl white dry wine
4 cloves garlic, finely diced
3/4 cup parsley, finely chopped
1 knob ginger, finely diced
1 red chilli, chopped (optional)
1 tablespoon capers (optional)
2 teaspoons salt ( rub into the minced garlic)
Parmesan cheese or parmiggiano reggiano flakes
Good dousing of your favourite extra virgin olive oil
1 large pot boiling salted water
Plunge pasta into boiling water (check instructions on packet for time)
and drain once cooked. If using dried pasta make sure it is al dente and don't overcook.
Cool with 1/2 gl wine.
Toss all ingredients into the pasta except cheese and evo oil.
Plate up linguine, add parmesan/parmiggiano reggiano and douse with the luscious extra virgin olive oil.
Enjoy!
Browse more recipes...