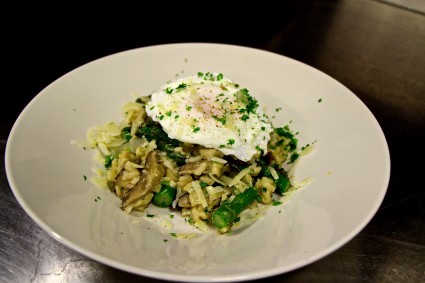 Shitake Mushroom Asparagus Risotto with Poached Egg
Shitake mushrooms give powerful flavour to any dish and with this risotto combined with asparagus and topped with a soft poached egg, makes this dish divine!
Serves 4
Kai
1 cup Arborio rice
1 ½ -2 litres chicken stock
1 onion finely chopped
3 garlic cloves finely chopped
1 celery stalk, finely chopped
½ glass dry white wine
8 fresh asparagus spears, cut diagonally into 1 inch batons
100gms feta
100 gms parmigiano reggiano or parmesan cheese
12 fresh shitake mushrooms, sliced
1 cup parsley, finely diced
4 free range eggs
½ cup olive oil
½-1 cup quality extra virgin olive oil.
Seasoning.
Method
Heat chicken stock in a pot.
In a frypan gently heat olive oil & add onion, celery and garlic. Cook until translucent.
Add rice and coat with the mixture. Add vino. Add mushrooms.
Add enough hot stock to cover the mixture and the mushrooms.
Simmer gently adding more stock as required until rice is cooked.
Stir occasionally.
Add asparagus and fold in gently.
Gently toss through feta. Stir in ¼ - ½ cup extra virgin olive oil.
Add parsley and seasoning to taste.
Poach eggs. Plate risotto. Place eggs on top.
Sprinkle with the parmesan and a little more extra virgin olive oil.
Devour immediately!
Browse more recipes...