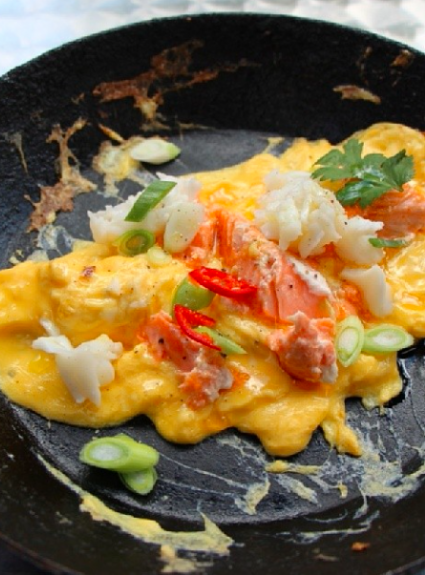 Sexy Salmon & Crayfish Omelette
This may be way over the top but I had a crayfish tail still left over from the Chathams trip and just made up this sexy little omelette with oven baked salmon tossed in … You can do this at home with any seafood, prawns are a favourite too.
Serves 2
1 small crayfish tail
120g salmon fillets
4 eggs
Splash of milk
1/2 cup rice bran oil
1 shoot of spring onion, sliced
1 chilli, sliced
Seasoning to taste
Extra virgin olive oil to finish
Throw the crayfish tail into a preheated oven and bake at 175 degrees for 8-10 minutes, depending on the size. Remember, it's best to undercook it. If it's still undercooked when you crack it open, you can poach it in the warmth of the omelette or gently sear it in a frypan.
Lightly bake the salmon. Depending on the size of the fillet, you might want to add the salmon to the oven about 5 minutes after the cray's gone in.
Beat the eggs, chuck in the milk. Heat frypan with half the rice bran oil, and carefully pour half the egg mixture into the pan. Gently push the egg from one side of the pan to the other to make large fluffy folds, until the mixture is almost set. Remove from heat, plate up and keep warm while repeating these steps with the other half of the egg mixture to make the second omelette.
Place the salmon and crayfish in delicate pieces on top of the omelettes, which you can either fold or have flat … sprinkle with chopped spring onions and slices of chilli, season to taste and finish off with a good quality extra virgin olive oil. Serve with toasted wholemeal bread - Vogel's if you're in New Zealand.
Browse more recipes...