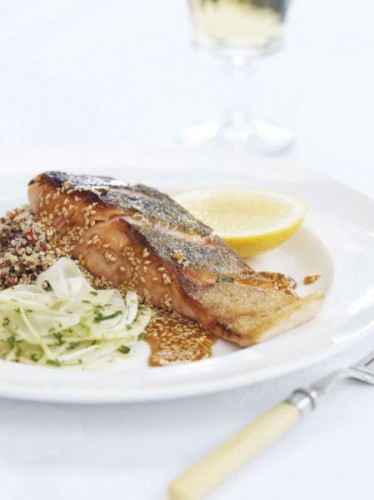 Photo credit: Aaron McLean
Sesame Honey Salmon
Quinoa, an ancient grain from South America, is one of the most nutritious foods available; its rich fibre content can help pre-menopausal women reduce the risk of developing breast cancer. UMF (Unique Manuka Factor) Honey, and salmon's omega 3 fatty acids, make this full of flavour and goodness.
Serves 2
¼ cup of quinoa
¾ cup of chicken stock or water
half red onion, finely diced
juice and finely diced zest 1 lemon
1 clove of garlic, finely diced
1/2 a red capsicum, finely diced
260g fresh salmon, skin on, scored diagonally
¼ cup sesame seeds, dry toasted
2 dessertspoons UMF manuka honey
half a fennel bulb, finely slivered
¼ cup chopped sage
2 teaspoons flaky salt
Simmer quinoa in stock for 15 minutes, ensuring stock doesn't evaporate. Drain remaining liquid then stir in onion, juice, zest, garlic and capsicum.
Preheat oven to 160C. Cook salmon, skin side down, on baking paper in hot, dry frypan until seared. Flip carefully and bake in oven. When salmon bleeds milky juices, after a few minutes, turn heat off and leave in oven for one minute.
Gently warm sesame seeds and honey in a saucepan and pour over salmon.
Mix fennel and sage, together and serve as a salad on the side.
Browse more recipes...