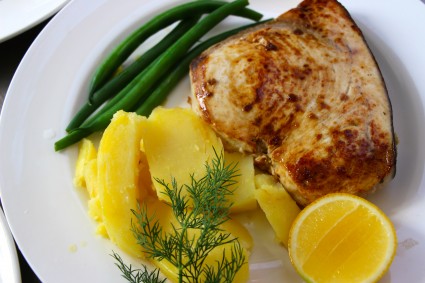 Seared swordfish steaks
Swordfish is one of my favourite fish in the whole wide world. If it's perfectly cooked, it's just melt-in-your-mouth delicious! Today I've simply partnered this wonderful fish with lightly steamed green beans and batons of Agria potatoes.
Serves 3
3/4 cup rice bran oil
2 swordfish steaks
1 lemon or lime to finish
Splash of extra virgin olive oil to finish
Seasoning to taste
Cut each swordfish steak into three pieces and sprinkle flaky salt onto each.
Put rice bran oil in the pan on a high heat - rice bran oil is good for this as it has a high smoke point. For swordfish steaks that are cut quite thick, I find it's nicer if they're cooked all the way through, and the amount of oil helps with this.
Watch for the edges browning up, this should take about 5 minutes, then flip them over and finish off, you end up with a caramelised coating.
Squeeze lemon / lime juice over the top, with a splash of extra virgin olive oil to finish, and season with salt and pepper to taste.
Serve immediately!
Browse more recipes...