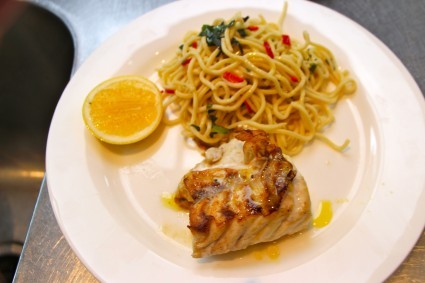 Seared Hapuku w Fresh Spaghetti
Hapuku is one of the best fish our waters have to offer. I love it!
As always, I like to keep it simple and fresh, here I've paired the hapuku with a very simple spaghetti.
Serves 2
2 thick pieces of hapuku, about 300 grams each
3/4 cup rice bran / olive oil mix
250g fresh spaghetti
1 clove garlic, finely chopped
1 medium chilli, sliced
1/2 cup torn coriander
Lemon to garnish
Flaky salt
Preheat oven to 180 degrees. Boil a pot of well-salted water for the pasta.
Heat the oil to medium heat, sprinkle flaky salt on hapuku and sear them, turning after a couple of minutes. Finish hapuka in oven, checking after 5 minutes. The fish is ready when it starts to look like it's beginning to flake all the way through.
Boil the pasta for 3-4 minutes until al dente.
Toss the fresh garlic, chilli and coriander through the pasta.
Plate pasta up with hapuku fillets, season to taste and garnish with a lemon cheek and a splash of extra virgin olive oil. Serve immediately.
Browse more recipes...