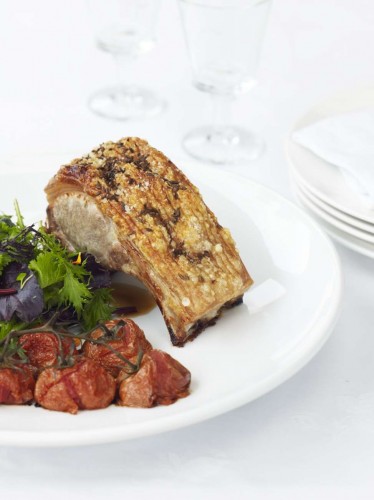 Photo credit: Aaron McLean
Roasted Loin of Pork with Slow Roasted Tomatoes
The WCRF recommends eating less than 500g of red meat per week – Pork is a white meat, and a tasty alternative. Tomatoes are packed with potent antioxidants: lycopene, and vitamins C and K. A fresh, robust organic salad provides a crisp counterpoint and an extra serving of vitamins and minerals too.
Serves 2
600g Pork loin, skin on
flaky salt
2 tablespoons fennel seeds
6 vine tomatoes
salt and pepper
¼ cup olive oil
dash of balsamic vinegar (optional)
organic salad leaves
Preheat oven to 180°C. Score pork skin to a depth of 1-2mm and rub salt into pork skin. Sprinkle fennel seeds over pork and in dish, and cook skin side up for 1 hour. If skin hasn't quite become crackling, turn oven to grill but ensure the pork doesn't blister and burn.
At the same time, place tomatoes in a small oven dish, top with a sprinkling of salt and pepper, the olive oil and balsamic vinegar if using. Place in oven with the pork and roast. Remove before grilling the crackling.
Set pork and tomatoes aside to rest. Cut pork into two portions and serve with tomatoes and salad leaves.
Browse more recipes...