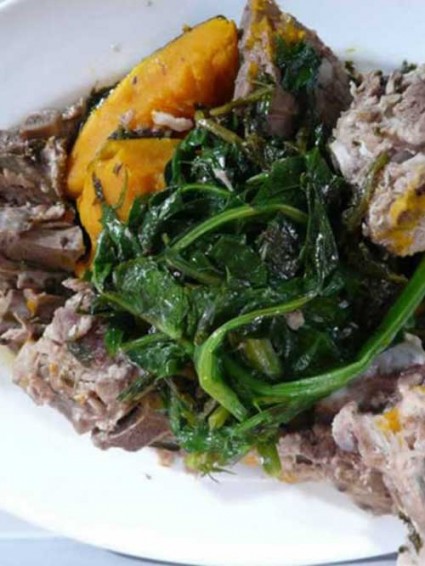 The Pot - Pork and Puha with Steamed Vegetables
When I was a kid, everything went into the one pot, but steaming the vegetables separately keeps their colour and they look much nicer. Buy semi-lean meat: a bit of fat makes a tastier munch (cut off before serving).
Serves 4
2kg pork bones
1 tablespoon salt, for the pot
big bunch puha or watercress, flowers removed
2 carrots, cut into diagonal chunks
2 kumara, cut into diagonal chunks
4 small or gourmet potatoess
1 teaspoon salt, for the vegetables
Put pork bones in a large pot and drown them with cold water. Add the salt and bring to the boil, with the pot lid off, then simmer gently for an hour or so until the meat is almost falling off the bone.
Add puha to the pot and cook for 15 minutes, wit hthe lid on.
In another pot, bring water to the boil and steam or gently boil the vegetables with salt until soft.
Plate up meat and veges, finishing off with a little stock water poured over the dish.
Browse more recipes...