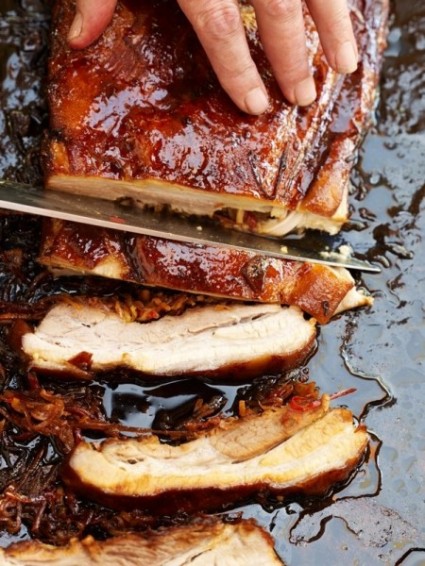 Photo credit: Aaron McLean
Pork Belly and Puy Lentils
As served to my fabulous friends in the 'Hospo' episode of 'Kai Ora'. Ideally marinate the belly for 3 days, but it's still great after just a few hours.
Serves 8-10
Pork Belly
zest of 3 oranges, 3 lemons and 3 limes
3 tablespoons slivered fresh ginger
3 tablespoons fennel seeds
2 large fresh red chillies, slivered
5 cloves of garlic, slivered
½ cup manuka honey
1 pork belly
1 tablespoon mixed flaky sea salt and pepper
½ cup extra virgin olive oil
Puy Lentils
6 cups chicken stock
2 cups puy lentils
2 bay leaves
¼ cup extra virgin olive oil
1 large onion
3 shallots
1 large carrot, diced to lentil size
1 bulb fennel, dized to lentil size
2 tablespoons finely chopped celery
2 cloves garlic
1 cup broad beans
In a bowl, mix the citrus zest, ginger, fennel seeds, chillies, garlic and honey. Smear over the underbelly of the pork. Season with salt and pepper, then roll the pork up in cling film and leave in the fridge to marinate for up to 3 days.
Preheat oven to 145°C. Smear the olive oil on an oven dish and place pork belly in it, skin side up. Sprinkle extra virgin olve oil, salt and pepper on the flesh, put in oven and leave to slow cook for 3½ to 4½ hours, checking after 3 hours. Add about ¼ cup water during the cooking (this helps stop the honey from catching).
While the pork belly is cooking, prepare the puy lentils. Bring chicken stock to the boil in the pot – you will need at least 3 times the volume of the lentils. Add puy lentils and bay leaves, then simmer for 20-25 minutes. Remove the bay leaves.
Meanwhile, heat the olive oil in a pan. Gently cook onion, shallots, carrot, fennel, celery and garlic, slowly caramelising the mixture without burning it.
Add the drained lentils to the mixture then add the broad beans to warm through.
Arrange lentils on plates, slice the pork belly and lay it on top.
Browse more recipes...