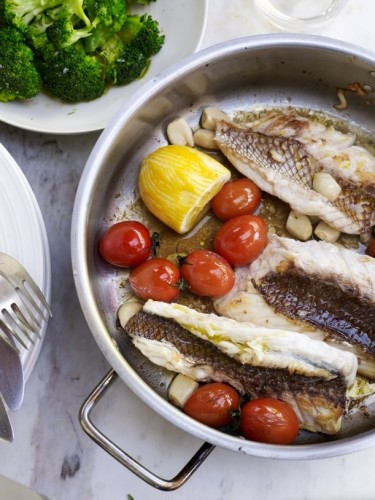 Photo credit: Aaron McLean
Oven Baked Snapper with Garlic, Tomatoes & Broccoli
The super-food broccoli, the tomatoes full of lycopene, the garlic for warding off colds and flu, and the beautiful snapper sitting proudly among the vividly coloured vegetables… this dish is a picture of health and explodes with flavour!
Serves 3
¼- ½ cup mixture of rice bran and olive oil
3 fillets snapper skin on
6 whole peeled cloves garlic
Handful of vine ripened, small sweet tomatoes
1 head broccoli, broken into florets
Juice of 1 lemon
Flaky salt and pepper
Splash of Olivenz extra virgin olive oil
Pre heat oven to 200?C
Heat oil in oven proof pan and add snapper fillets, skin side down, with the whole garlic cloves and whole tomatoes. Sear for a minute or 2 turning garlic and tomatoes so as not to 'catch' or burn. Flip fish carefully then throw pan into oven. Leave until fish becomes opaque and cooked through- takes only a couple of minutes max. Do not overcook.
Alternatively place fish onto baking paper skin side down and throw into a very hot oven for a few minutes only. (3-5 minutes depending on thickness of fillets) Pan sear garlic and tomatoes.
Steam broccoli, remove from heat while still crunchy (2 minutes, thereabouts) If need be, dunk florets into iced cold water to keep colour and stop the cooking.
Season with salt pepper, squeeze of lemon juice and splash of olive oil to finish.
Browse more recipes...