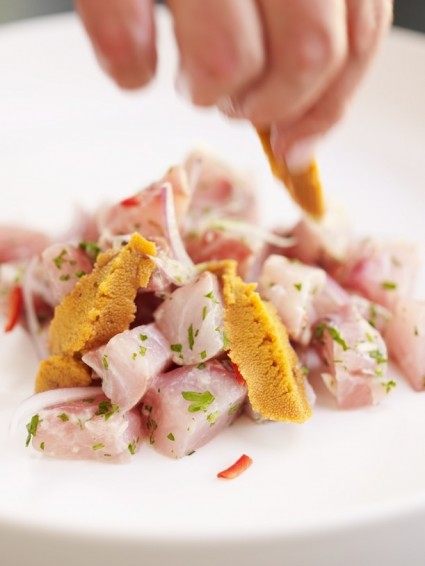 Photo credit: Aaron McLean
Marinated Trevally Ceviche with Kina
Trevally is often underestimated. Straight out of the sea, it\'s a delicious fish, particularly raw. I love the bit and texture of the chilli and it adds wonderful colour.
Serves 3
1/2 red onion, thinly sliced
1 shallot, slivered
1 clove garlic, finely chopped
1 tablespoon finely chopped parsley
1 tablespoon finely diced ginger
1 large trevally fillet, cubed
squeeze of lemon juice and zest from 1 lemon
squeeze of lime juice and zest from 1 lime
5 kina roe (there are 5 roe in one kina)
1/2 fresh red chilli, finely sliced
flaky sea salt
ground white pepper
1 tablespoon extra virgin olive oil
Mix onion, shallot, garlic, parsley and ginger together in a bowl and coat trevally with them. Add the coated fish to another bowl with lemon and lime juice and xest. Leave to marinate as long as possible (overnight is good).
Plate up the fish, place kina roe on top. Add fresh chilli, season and drizzle with extra virgin olive oil.
Browse more recipes...