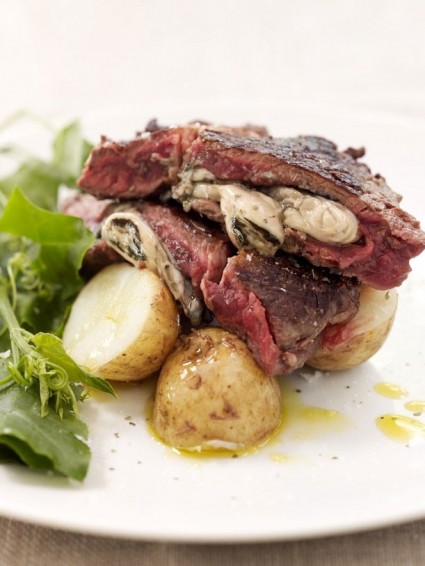 Photo credit: Aaron McLean
Horopito Carpetbag Steak
When I was a kid growing up, carpetbag steak was an all time favourite and still is. How decadent: big fat juicy oysters poking out of the steak. We would often have this treat after my folks had a successful day at the races. It's an absolute winner.
Serves 3
3 thick pieces of steak either eye or scotch fillet (about 2.5 centimetres thick)
9 fresh oysters, shucked
3 cloves of garlic, slivered
2 tablespoons horopito rub (Maori black pepper) or use freshly ground pepper as an alternative
olive oil
flaky sea salt
With a sharp knife, create a pocket in the side of each piece of meat. Stuff one to three oysters into each pocket, plus slivers of garlic.
Coat steak in horopito rub, or freshly ground black pepper.
Heat a hotplate, grill or barbecue until very hot, smear with a little olive oil then sear one side of each steak for 4-6 minutes. Turn steak once and cook the other side for 4-6 mintes depending on the size of the steak. Aim for rare to medium-rare steaks.
Season with sea salt and serve with boiled potatoes and greens.
Browse more recipes...