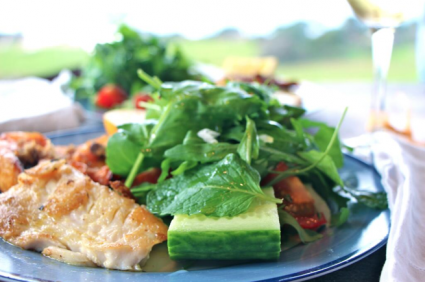 Hapuku, Roast Pumpkin & Oven Baked Ginger
It's lovely to have access to fish such as fresh hapuku, and herbs and leaves all year round - it may be cold outside but at the dinner table, it can still feel like summer!
Serves 2
2 x 250g Hapuku fillets
350 - 400 grams of pumpkin, sliced
75 grams of fresh ginger, finely diced
1 orange
!/4 cup each of rice bran oil and olive oil
Salt & pepper to taste
Salad:
Rocket
Watercress
Mint
Cucumber
Lemon to garnish
Put the diced ginger into a ramekin and cover with olive oil, arrange the pumpkin slices on a baking dish. Roast pumpkin and ginger at 180 degrees celsius until the pumpkin is soft or until everything is caramelized to your liking.
Remove from oven, spoon the ginger over the pumpkin slices, squeeze the orange over everything then season to taste.
Pan sear the hapuku fillets in the rice bran oil / olive oil blend. Remember not to overcook, check with a fork to see when they start to flake through and then they're done.
Arrange the greens into a salad, plate everything up, garnish with lemon and a sprinkling of extra virgin olive oil and serve!
Browse more recipes...