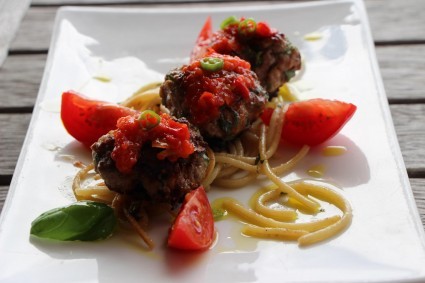 Green chilli pork balls on salami pasta
Pork mince balls a la Asia-Pacific cuisine. Plenty of green chillies served on Italian black truffle salami pasta.
Serves 2
Meatballs:
500g pork mince
1 chopped spring onion
3-4 chopped fresh green chillies
2 tablespoon grated ginger
2 cloves chopped garlic
3/4 cup chopped Italian parsley
Olive oil
Sesame oil
Extra virgin olive oil
Seasoning to taste
Pasta:
Handful of pasta (enough for 2)
2 cloves chopped garlic
About 60 grams of sliced salami (I used black truffle salami from Farro Fresh, yum!)
Garnish:
Sliced chilli
Fresh basil
Tomato
Combine meatball ingredients and make into ten balls. (Use flour to cover each ball if you want - I didn't!)
In a medium pan combine olive oil and a splash of sesasme oil; cook the meatballs for 10 - 12 mins until browned and cooked through. Set aside.
Cook the pasta in boiling salted water til al dente. Drain.
In a frying pan with olive oil, cook the chopped garlic and salami slices til the garlic's soft. Add salt and pepper to taste, and combine with the pasta.
Put pasta on plates; place meatballs on top. If preferred, spoon a delicious relish of your choice onto each meatball.
Garnish with sliced chilli, basil and tomato.
Serve with a glass of cheeky Fresh rose!
Browse more recipes...