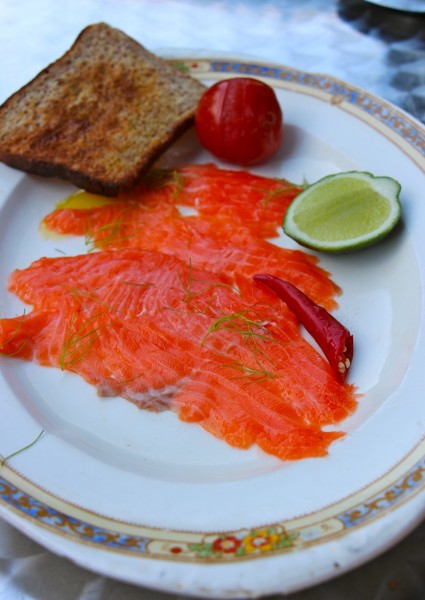 Gravlax
Salmon is farmed here in New Zealand. However, I have to say there's nothing quite like salmon you find in the wild! Both varieties are full of omega 3, lots of health benefits and delicious to eat!
Serve with capers, and red onion with bilinis, crackers or toasted vogels bread.
Here I've just served it simply with a slice of vogels toast, whole sweet tomato, chilli and a lime cheek garnish!
Serves 10
1 small-med salmon fillet, skin on (around 1 kilo in wt)
1/2 cup sugar
¼ cup Kosher salt, (not as salty)
Plenty of dill, chopped
½ gl of gin/vodka (optional)
Debone the salmon
Combine the salt and sugar together and smother the top of the fillet/s
Throw on the dill and booze (optional) and wrap tightly on a plate w a lip (to catch the liquid)
Cover in plastic wrap.
Refrigerate in cold fridge. Put something heavy over plate, careful not to damage the flesh of the fish.
Drain the accumulated juices every day.
It will take a couple of days to cure.
Slice thinly on the bias, leaving the skin intact.
Browse more recipes...