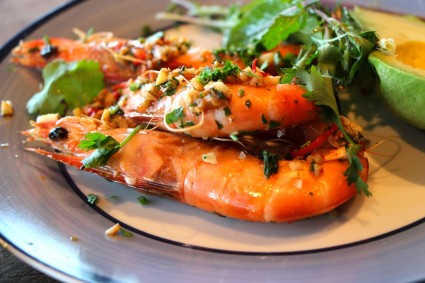 Fresh Aussie Prawn Avo Salad
This is one of my all-time favourite dishes for lunch. Prawns and avocado are a match made in heaven!
Serves 2
6 fresh Aussie Prawns
1 ripe avocado
Small bunch coriander, chopped and torn
Knob of ginger, chopped
3 garlic cloves, chopped
1 med-hot chilli, chopped
1/2 tablespoon salt
3/4 cup rice bran and olive oil mix
Splash of your best extra virgin olive oil
Seasoning to taste

Crush garlic and salt together. Cut avocado into quarters.

Heat large frypan with oil mix. When piping hot add prawns and toss or turn when shells change colour, no longer than a minute. Toss all ingredients except torn coriander into frypan coating all the prawns well and remove from heat.

Plate up, throwing torn coriander over the top for garnish and splash generously with your favourite extra virgin olive oil.

Enjoy!
Browse more recipes...