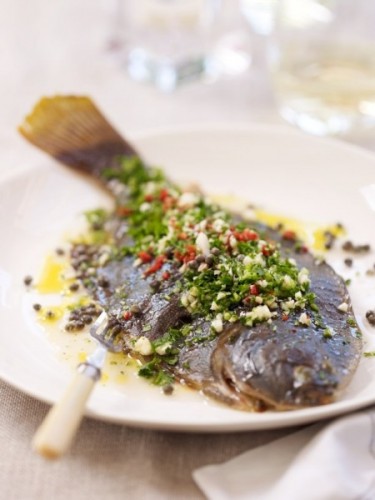 Photo credit: Aaron McLean
Flounder Gremolata
Gremolata is a traditional topping for the classic Italian Veal Stew, osso buco. Here I've used it with patiki (flounder).
Serves 4
zest of 1 lemon and 1 lime
3 cloves garlic, diced
2 tablespoons salted capers
1 red chilli, finely diced
1 cup fresh finely chopped parsley
good douse extra virgin olive oil for the gremolata and another good douse for sprinkling
4 flounder
Preheat oven to 180°C or heat grill until hot
Mix all ingredients except flounder together in a bowl
Sprinkle oil over the flounder and place on a hot grill or in the oven. Cook for a couple of minutes on each side on the grill – the skin is very delicate – or until opaque in the oven.
Place the flounder on plates and add the gremolata mixture. Lastly add a generous amount of extra virgin olive oil.
Browse more recipes...