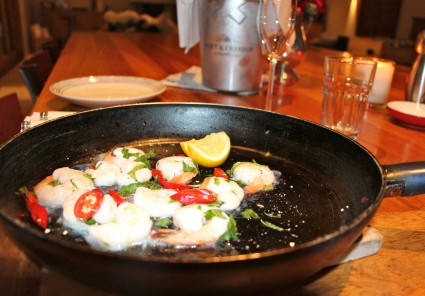 Delicious Pan Seared Prawns
I've smothered these pan seared prawns in my favourite Asian flavours: Chilli, Garlic, Ginger & Coriander. Enjoy!
Serves 2
12 prawns
1 chilli, medium heat, sliced
small knob ginger, diced
2 garlic, diced
1 tablespoon coriander
splash of fish sauce
1/2 cup rice bran.
Drizzle extra virgin olive oil
lemon wedge
Heat rice bran oil until hot then add prawns, caramelizing them on one side (about 1 minute) until golden brown; turn over, then caramelizing the other side. Add all other ingredients on the turn except EVO oil. Remove from heat. Drizzle with EVO oil and serve immediately with a juicy lemon wedge.
Browse more recipes...