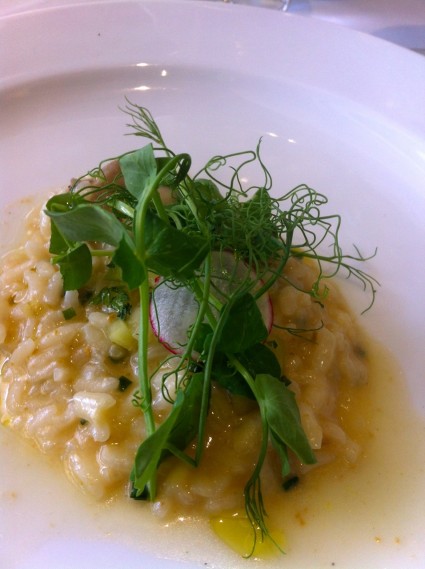 Creamy Mushroom Risotto
This risotto recipe is a classic. I like to just use whatever fresh herbs I can find in the garden ... it always comes out a treat.
Serves 4
250 grams chopped mushrooms
1 litre hot chicken stock
¼- ½ cup olive oil
8 shallots or 1 large onion, finely chopped
Zest, chopped and juice of 2 lemons
1 cup Arborio rice
½ glass white wine
2 tablespoons parmesan cheese, freshly grated
120 g soft feta cheese
A handful of mixed fresh herbs ie sage, basil, oregano, mint, coriander parsley and rosemary, chopped, plus extra to garnish.
1 tablespoon capers (optional)
½ cup extra virgin olive oil
Sliced radish to garnish
Coat base of heavy-based saucepan with olive oil, heat, then add shallots or onion, chopped lemon zest and cook for 1-2 minutes or until translucent.
Using a wooden spoon add the rice and stir until the grains are well coated and glistening, for about a minute. Add the chopped mushrooms and pour in wine and stir until it has been completely absorbed by the rice.
Add a ladle of hot stock and simmer, either stir mixture or let it self absorb without touching it. Continue to add stock ladle-by-ladle cooking as before, until the liquid is absorbed and the rice is tender but firm (al dente), about 20 minutes. Reserve the last ladle of stock.
Add the reserved stock, feta, Parmesan, herbs, lemon juice, and half the extra virgin olive oil. Season to taste.
Remove from heat, cover and let rest for 2 minutes. Stir in rest of extra virgin olive oil.
Sprinkle with the reserved chopped mixed herbs, capers and radish slices and serve immediately.
Browse more recipes...