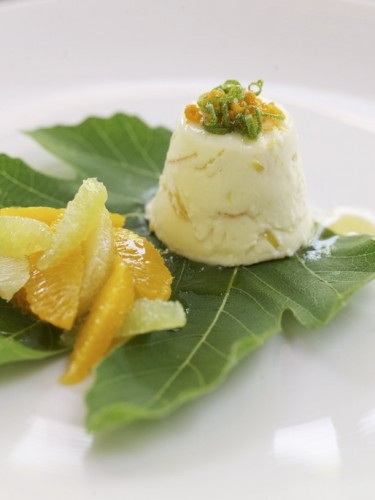 Photo credit: Aaron McLean
Citrus Pannacotta with Orange, Lemon and Lime Salad
Sheet gelatine is best for making panna cotta. Just soak the sheets until they get gluggy, then squeeze out excess water with your hands. Prepare the panna cotta several hours before serving – preferably the day before – to allow time to set
Serves 3
Citrus Panna Cotta
60ml milk
200ml cream
50g caster sugar
1 teaspoon ground ginger
1½ leaves sheet gelatine
dash of pure orange oil
zest of 1 orange, 1 lemon and 1 lime
Orange, Lemon and Lime Salad
1 orange
1 lemon
1 lime
Put milk, cream and sugar in a saucepan over a medium heat. Allow to come to the boil. Add ground ginger then remove from the heat.
Meanwhile, throw the gelatine leaves into a bowl of cold water until they become gluggy (this will only take a few minutes). Once soft, squeeze out excess water and discard it. Add the gelatine to the hot milk mixture, whisking constantly until completely dissolved. At the last minute add a dash of pure orange oil and the orange, lemon and lime zests.
Tip the little pottles (this dessert is delicious and rich: you only need small portions). Cover with cling film and put in the fridge, preferably overnight, for the panna cotta to set and the flavour to intensify.
To serve, place each pottle in warm water very briefly then use a warm blunt knife to loosen each pudding from the sides of the pottle. Invert on to individual plates and serve with the citrus salad.
To make the salad, zest the orange, lemon and lime then segment each piece of the citrus, using a sharp knife to remove the skin and pith.
Plate up segments on each panna cotta dish alternating the colours, then sprinkle the panna cotta with zest.
Browse more recipes...