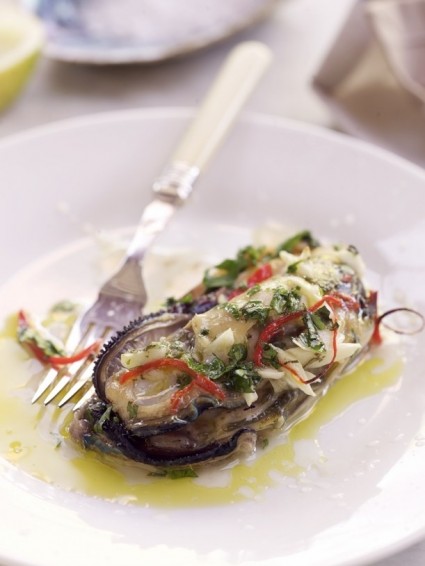 Photo credit: Aaron McLean
Chilli Kutai (Mussels)
Usually the only way to eat kutai for me is raw! This dish, however, includes a couple of minutes under a hot grill - just long enough to engorge the mussel with its own juices. If you'd rather not have rare mussels, leave them under grill for a tad longer.
Serves 3
12 kutai (mussels) in their shells
juice of 1 lime
2 cloves garlic, slivered
1 fresh chilli, chopped
2 tablespoons chopped parsley
small knob of ginger, grated
1 spring onion, slivered
2 tablespoons chopped coriander
smidgeon of extra virgin olive oil for each mussel
Preheat grill to 220 degrees celcius.
Cut beards off mussels, shuck and leave in shells and put them on a baking tray. Squeeze lime juice over each mussel. Sprinkle garlic, chilli, parsley, ginger, spring onion and coriander on the mussels. Drizzle with the olive oil.
Place under grill for a quick blast of around 2 mins, a tad longer if you'd rather. Serve immediately.
Browse more recipes...