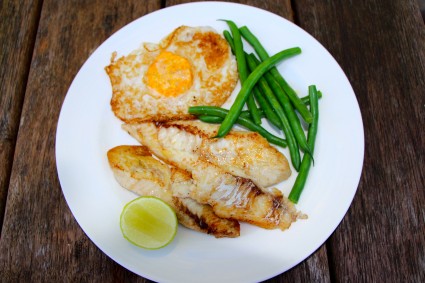 Breakfast Snapper
This is a simple healthy easy to prepare breakfast for champions. It doesnt really need a recipe because it's plain to see what to do! But you're getting one anyway!
Use any fresh fish you like as fresh is always best!
Serves 4
250 gms snapper per person
Seasoning
½ c olive oil
4 free range eggs
½ c olive oil
Fresh beans
Pinch of salt
Lemon/lime cheek for garnish
Heat pan with olive oil and panfry lightly seasoned snapper, one side then the other.
Remove from pan when almost done and keep warm. (The fish will continue to cook while you cook the eggs)
Break eggs into very hot oiled pan and cook quickly. Turn eggs over to sear the other side.
Plunge beans into pot of boiling salted water for a minute.
Plate up on warm plates and garnish with a cheeky lemon/lime.
Browse more recipes...